I just adore Lindsay Lohan's taste of fashion :)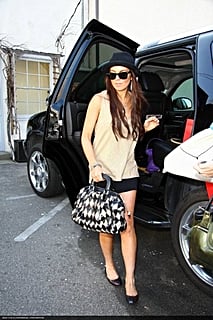 More From Zooey Deschanel - As Requested By You
You spoke, we listened.
After Wednesday's post featuring American actress Zooey Deschanel at a film premiere, the overwhelming response on the comments was "more from this girl, please!" And so we've duly obliged...
The quirky beauty was on the promotional trail again earlier this week, paying a visit to The Late Show with David Letterman to chat about her new film, The Happening.
And wasn't she looking lovely? Wearing a simple outfit consisting of a shimmering gold Monique Lhuillier dress, black court shoes and her usual slick of red lipstick, and with her hair rolled up in a bun and secured with a flower clip, the actress was the epitome of elegance.
Let us know if you love this look!
Naomi Campbell is All White Outside Cipriani
She's been better known for her air-raging, phone-throwing ways of late, but last night Naomi Campbell went back to her roots and showed us just what she's famous for - smiling and posing for photographers.
The supermodel enjoyed a dinner at London restaurant Cipriani before leaving to face the throng of paps that had gathered outside. Wearing a cute white layered mini dress along with strappy snakeskin heels, a snakeskin bag and a massive pair of oversized sunglasses (hey, when you're a supermodel, it doesn't matter whether it's day or not), Naomi happily waved and smiled for the snappers, before jumping into a taxi and zipping across to Chinese restaurant China Tang (still hungry, Naomi? And we thought models didn't eat...).
Other Cipriani diners of note last night included Simon Cowell and David Cameron - bet they didn't cause such a kerfuffle...
Sarah Jessica Parker's fury at being duped into wearing frock to Sex And The City's NYC premiere worn TWICE already
Last updated at 4:51 PM on 03rd June 2008
It is a moment that fashion-forward Carrie of Sex And The City would have found mortifying.
Actress Sarah Jessica Parker had taken great care to pick the perfect dress for the New York premiere of the long-awaited Sex And The City.
But days later, it was revealed the designer of the couture gown hadn't been quite so prudent - and had loaned out the dress she wore on her big day, not once but TWICE to other celebrities including Hollywood bad girl Lindsay Lohan.
Sarah Jessica Parker


Third-hand: Sarah Jessica Parker wowed New York in her silver strapless Nina Ricci gown - only to discover it had been worn TWICE already by other celebrities.
After wowing New York on the red carpet in the floor-length metallic, pleated prom gown, Sarah Jessica Parker, 43, found herself distinctly behind the times thanks to designer Olivier Theyskens, who had been less than candid about exactly where his dress had been.
Despite being assured by designer Theyskens that the dress had only been seen previously in magazine shoots, Miss Parker was shocked to discover that the strapless Nina Ricci gown was worn on TWO previous occasions.
Third time unlucky: From left, Lindsay Lohan, Lauren Santo Domingo, and Sarah Jessica Parker in the Nina Ricci dress which she was assured hadn't been photographed previously
Earlier in the month the dress was worn by stunning heiress Lauren Santo Domingo to the high-profile fashion event, the Met's Costume Institute Gala on May 5th.
Santo Domingo walked the red carpet with the dress' designer, Theyskens, which was attended by a who's who of the world's of fashion and celebrity.
And even worse, Parker, who has made a name for herself due to her individual style discovered that young Hollywood starlet Lindsay Lohan wore the gown in an advertising campaign for Disney which she shot soon after leaving rehab.
However, in response to the fashion faux pas, Parker took a considered view. She told the New York Times: 'Look, my affection for the dress hasn't changed,' she said.
'But what they did was so short-sighted. It's just unethical and disappointing that they would allow the dress to be worn again.
"[The designer] didn't say, 'Well, actually I just escorted Lauren down the red carpet at the Met,' said Parker.
She added: 'I just wish it had been handled differently and they had been straight about it.'
Ouch!
Who wore it best then??
Roberto Cavalli Wines and Dines the Stars
May 30, 2008 10:07:31 GMT
Fresh from playing host to numerous parties over in Cannes, Roberto Cavalli brought the glitzy show to London last night, hosting a party at 17 Berkeley Street to celebrate the launch of his self-titled wine. We hear that the designer plonk, made from grapes grown at his family estate in Tuscany, will come in leopard print and RC logoed bottles - well, would you expect anything less?
Joining Signore Cavalli at the launch was a mix of celebrities, including actress Margo Stilley and Brit gal Sophie Ellis-Bextor. Margo broke the fashion rules as usual, choosing to pair her floor-length colour block dress with flat gold sandals (well, at 5'10" she can pretty much get away with it), whilst SEB get things fun in a swan-print blouse and black pencil skirt styled with a red clutch and square toe heels. She's not the first celeb we've seen wearing this particular breed of footwear - we spotted Dita Von Teese wearing a pair over in Cannes, and Liv Tyler at her Letterman TV appearance.
They both look gorgeous but which is your fav one?
I'd go for Margo minus the shoes..?
...well, two of them at least.
Kim Cattrall continued the SATC publicity trail last night, taking the film to Toronto for the Canadian premiere (poor Canada - London, Berlin and NY get all four girls and all they get is Samantha). Nevertheless, the Canadian-raised actress ensured she wowed the crowds gathered to celebrate the movie, again choosing to wear Vivienne Westwood - this time round, it was a pink satin one-shouldered number with strappy silver sandals and a big ol' sparkling ring.
Meanwhile, Kristen Davis remained in New York following the premiere there on Tuesday night to help re-launch a magazine. And, we think you'll all agree, she was most definitely at her best in beautifully fitting green dress and gold sandals.
Lucky Sarah Jessica Parker and Cynthia Nixon must have got to sling off their Louboutins and put their feet up...
But which look you heart better? :)
I think they both look really nice. Love both dress, but in the end I'd go for Kristen's one!
May 27, 2008
Ashlee Simpson Returns From Her Honeymoon
The new Mrs. Pete Wentz - or Ashlee Simpson, to you and us - arrived in New York this weekend having returned from the Caribbean where the happy newlyweds enjoyed a short honeymoon following their surprise wedding last week.
Ashlee looked happy and relaxed, but those pesky pregnancy rumours just refuse to go away - and the convenient "over tummy" placement of her brown bag as she left her car has only added fuel to the already fierce fire.
However, we have to say - there doesn't appear to be much happening underneath Ashlee's skinny jeans and simple black t-shirt, does there? We're withholding judgement on this one until we see an official statement...

I love her outfits anyway! but not sure about the bag :-/
What do you think??
All eyes were on Victoria Beckham last Thursday at the official launch of her dVb denim range at Harrods. The Spice Girl made sure she put in an appearance at the launch, following rumours that her line would soon be dropped by stores in the US. After she was recently criticised by Kitson owner Fraser Ross, Beckham went on Radio 1 to defend her so-called lack of promotional work.
"With that particular store there probably was some truth in it. I'd been on tour with the Spice Girls and at the end of the day you can't do everything. I work bloody hard is what I do, you know I really do. And I'm bringing up three children," she said.
Is Mischa Barton the next celebrity designer on the New Look payroll? It seems fairly unlikely, but in this age of celebrity collaborations I suppose anything is possible. The actress's laid back style has reportedly impressed the British retailer, that they have asked her to design a collection for them.